Solutions Tailored to your specific NEEds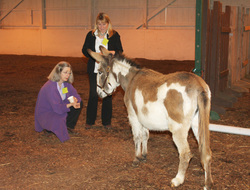 ANIMAL SYSTEMS provides specific consultation to human service providers. Consultation services are delivered through telephone, and other communication options as well as on site. Consultation may be time-limited and specific or provide long-term assistance and support.

Fees are based on an hourly rate. Travel for on site consultation is charged separately.

Consultation is provided in the following areas:

---
Animal-Assisted Intervention Program Development:

Animal Systems can assist you in the development of an animal-assisted intervention program for an agency, organization, or private practice. Assistance with staffing, program goals, animal capacities, budgeting and policy development are available.
Client CASE FORMULATION

Specific consultation on the development of goal-directed human-animal activities that promote client change.

ANIMAL SELECTION AND CAPACITY ANALYSIS

Assistance in determining the most appropriate species, breed/breed type, and capacity factors for individual settings and programs.

The trouble with Animals: Risk Management for Animal-Assisted intervention programs

Consultation on the development of risk management policies and procedures that recognize real world challenges to participant, animal and staff safety and well-being.

HUMAN-ANIMAL RELATIONSHIPS

ANIMAL SYSTEMS provides consultation in selecting appropriate animals to match individual lifestyles and needs.