The Implementation process is key to sustainable animal-assisted interaction programs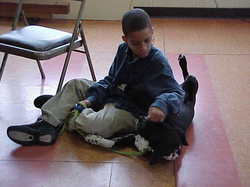 Implementation of animal-assisted interventions must be well defined and carefully evaluated with regard to its effects on its intended consumers (practitioners, managers, organizations, systems). Implementation outcomes are distinct from clinical treatment outcomes and animal-assisted intervention programs will not be effective if the program is not implemented well.Further, without clear and specific program outcomes it will be difficult to determine animal-assisted intervention effectiveness and difficult to implement the appropriate organizational structures and quality control measures. The programs offered on this page provide directors and managers with specific tools and methods to assist in the implementation and evaluation of animal-assisted interaction programs.

---
Critical Development Components of animal-assisted intervention programs

The implementation of evidence-based animal-assisted mental health services are uniquely complex in some ways, given the number of different animals that can be included and the array of specialty and non-specialty platforms in which mental health services are delivered (acute care, school, individual). As such, the multidisciplinary nature of animal-assisted interactions requires an understanding of the distinct but interacting and nested processes operating at the individual-, team-, organizational-, and policy-context levels. Accordingly, a defining feature of this curriculum is specific training in implementation complexity to ensure that trainees are equipped to create programs resulting in measurable outcomes and sustainable practices.

Building Capacity for animal-assisted interventions

The inclusion of animals in human service agencies and settings is more far reaching than the incorporation of conventional programs as the presence of animals can impact everyone in the system. This program provides human service directors and administrators help in crafting a careful definition of the role and goals expected from programs involving contact with animals, as well as clearly defined protocols and stated outcomes that are relatively impervious to expectancy and demand effects. Additionally, trainees will define and account for implementation factors that can impede or support the implementation of animal-assisted intervention programs such as infrastructure components (i.e. animal credentialing processes, and liability insurance), policies regarding the inclusion of animals, and implementation process considerations. Careful attention is given to the needs and perspectives of those stakeholders who may be skeptical or opposed to including animals in each setting .

Strategies for implementing sustainable, anD effective animal-assisted intervention programs

The lack of clear program goals is a common finding reflected in animal-assisted intervention research. Without specific and measurable goals, animal-assisted interventions may be more likely to be seen as an occasional departure from standard routine, such as placing flowers in the waiting area, rather than acknowledged as accepted practice. This workshop examines strategies for developing interprofessional coordination and cooperation and defining explicit mechanisms for the development of integrated services. This program assists managers and directors in developing policies that include financial and staffing considerations to create programs that are sustainable over the long term. This offering also addresses cultural and personal differences regarding attitudes to animals and provides strategies for using these differences to create opportunities for shared decision-making to enhance implementation outcomes.
.
Show me it works: developing outcome measures for animal-assisted intervention programs

Many programs use anecdotal stories or client satisfaction surveys to demonstrate success of animal-assisted intervention programs. More skeptical audiences, such as administrators of budgets who might fund animal-assisted interventions, require a higher standard to begin to endorse the use of nontraditional practices. This workshop provides methods to develop measurable outcomes that demonstrate program success in real-world settings.